Here is my monthly update covering most of what I have been doing in the free software world during August 2019 (previous month):
---
Tails
For the Tails privacy-oriented operating system, I was made a number of updates as part of the pkg-privacy-tools team in Debian:
Package new upstream version 2.1. [...]
Correct spelling, format and syntax errors in manpage.
Update debian/copyright; socks.py no longer in upstream.
Misc updates:

Drop "ancient" X-Python3-Version specifier (satisfied in oldoldstable).
Move to debhelper compatibility level 12 and use the debhelper-compat virtual package, dropping debian/compat.

debian/watch: Ignore dev releases and move to version 4 format.

onioncircuits: Update continuous integration tests to the Python 3.x version of Dogtail. (#935174)

seahorse-nautilus: (Almost) no-change upload to unstable to ensure migration to the testing distribution as binaries were uploaded with previous 3.11.92-3 release. [...]

obfs4proxy: Move to using the debian-compat virtual package, level 12. [...]
---
Reproducible builds
Whilst anyone can inspect the source code of free software for malicious flaws almost all software is distributed pre-compiled to end users.
The motivation behind the Reproducible Builds effort is to ensure no flaws have been introduced during this compilation process by promising identical results are always generated from a given source, thus allowing multiple third-parties to come to a consensus on whether a build was compromised.
The initiative is proud to be a member project of the Software Freedom Conservancy, a not-for-profit 501(c)(3) charity focused on ethical technology and user freedom.
Conservancy acts as a corporate umbrella, allowing projects to operate as non-profit initiatives without managing their own corporate structure. If you like the work of the Conservancy or the Reproducible Builds project, please consider becoming an official supporter.
This month:
I also made the following changes to our tooling:
diffoscope
diffoscope is our in-depth and content-aware diff utility that can locate and diagnose reproducibility issues.
Improvements:
Don't fallback to an unhelpful raw hexdump when, for example, readelf(1) reports an minor issue in a section in an ELF binary. For example, when the .frames section is of the NOBITS type its contents are apparently "unreliable" and thus readelf(1) returns 1. (#58, #931962)
Include either standard error or standard output (not just the latter) when an external command fails. [...]
Bug fixes:
Testsuite improvements:
Test for 4.4 in the output of squashfs -version, even though the Debian package version is 1:4.3+git190823-1. [...]
Apply a patch from László Böszörményi to update the squashfs test output and additionally bump the required version for the test itself. (#62 & #935684)
Add the wabt Debian package to the test-dependencies so that we run the WebAssembly tests on our continuous integration platform, etc. [...]
Improve debugging:
Internal code improvements:
strip-nondeterminism
strip-nondeterminism is our tool to remove specific non-deterministic results from a completed build.
---
Debian
Lintian
More hacking on the Lintian static analysis tool for Debian packages, including uploading versions 2.17.0, 2.18.0 and 2.19.0:
New features:
Bug fixes:
Other:
Debian LTS
This month I have worked 18 hours on Debian Long Term Support (LTS) and 12 hours on its sister Extended LTS project.
You can find out more about the project in the following video: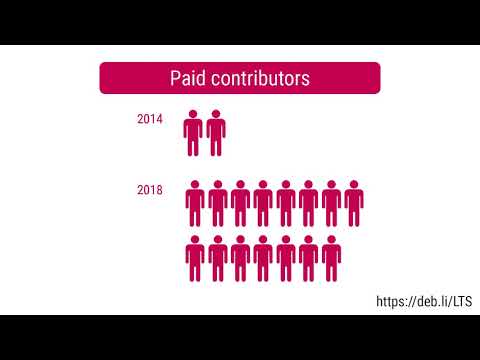 Debian uploads
python-django (2:2.2.4-1) — New upstream security release.

2.9:

Apply a patch from Helmut Grohne to move away from the xmkmf, a deprecated tool to create a Makefile from an IMakefile. (#902648)
Add an example systemd .service file to lock screen on suspend/sleep.
Ensure that patchlevel.h header file always matches the version in debian/changelog.
Move to "minimal" Debhelper style.
Add Vcs-Git and Vcs-Browser metadata; packaging has been added to Salsa

2.1: Ensure that our patchlevel.h version check works with binary NMUs. (#935697)

I also sponsored an upload of version 4.7.2-1 of adminer.
FTP Team
As a Debian FTP assistant I ACCEPTed 28 packages: bitshuffle, golang-github-abdullin-seq, golang-github-centurylinkcloud-clc-sdk, golang-github-cnf-structhash, golang-github-deanthompson-ginpprof, golang-github-ensighten-udnssdk, golang-github-gin-contrib-cors, golang-github-gin-contrib-gzip, golang-github-gin-contrib-static, golang-github-hansrodtang-randomcolor, golang-github-jarcoal-httpmock, golang-github-mcuadros-go-gin-prometheus, golang-github-mitchellh-go-linereader, golang-github-nesv-go-dynect, golang-github-sethvargo-go-fastly, golang-github-terra-farm-udnssdk, golang-github-yourbasic-graph, golang-github-ziutek-mymysql, golang-gopkg-go-playground-colors.v1, gulkan, kdeplasma-applets-xrdesktop, libcds, libinputsynth, openvr, parfive, transip, znc & znc-push.