Here is my monthly update covering what I have been doing in the free software world during May 2020 (previous month):
Opened a pull request against the kitty shell to set a default socket timeout when retrieving remote items via the icat command-line tool. (#659)

Opened a pull request to make the documentation for the Wand Python/ImageMagick graphics library to build in reproducible manner. [...]

Fixed an issue in my tickle-me-email library that implements Gettings Things Done (GTD)-like behaviours in IMAP inboxes to prevent a traceback when adding text attachments that were not valid UTF-8. ...]
In Lintian, the static analysis tool for Debian packages:
New features:

Bug fixes:

Reporting/output:

Code improvements:
Reproducible builds

One of the original promises of open source software is that distributed peer review and transparency of process results in enhanced end-user security. However, whilst anyone may inspect the source code of free and open source software for malicious flaws, almost all software today is distributed as pre-compiled binaries. This allows nefarious third-parties to compromise systems by injecting malicious code into ostensibly secure software during the various compilation and distribution processes.
The motivation behind the Reproducible Builds effort is to ensure no flaws have been introduced during this compilation process by promising identical results are always generated from a given source, thus allowing multiple third-parties to come to a consensus on whether a build was compromised.
The initiative is proud to be a member project of the Software Freedom Conservancy, a not-for-profit 501(c)(3) charity focused on ethical technology and user freedom.
Conservancy acts as a corporate umbrella allowing projects to operate as non-profit initiatives without managing their own corporate structure. If you like the work of the Conservancy or the Reproducible Builds project, please consider becoming an official supporter.

Elsewhere in our tooling, I made the following changes to diffoscope, our in-depth and content-aware diff utility that can locate and diagnose reproducibility issues, including preparing and uploading versions 142, 143, 144, 145 and 146 to Debian:
Comparison improvements:

Refactor .changes and .buildinfo handling to show all details (including the GnuPG header and footer components) even when referenced files are not present. (#122)
Use our BuildinfoFile comparator (etc.) regardless of whether the associated files (such as the orig.tar.gz and the .deb) are present. [...]
Add support for printing Android APK signatures via apksigner(1). (#121)
Identify "iOS App Zip archive data" as .zip files. (#116)
Add support for Apple Xcode .mobilepovision files. (#113)

Bug fixes:

Output improvements:

Reporting improvements:

Testsuite improvements:

Dockerfile improvements:

Codebase improvements:

Bump the officially required version of Python from 3.5 to 3.6. (#117)
Drop the (default) shell=False keyword argument to subprocess.Popen so that the potentially-unsafe shell=True is more obvious. [...]
Perform string normalisation in Black [...] and include the Black output in the assertion failure too [...].
Inline MissingFile's special handling of deb822 to prevent leaking through abstract layers. [...][...]
Allow a bare try/except block when cleaning up temporary files with respect to the flake8 quality assurance tool. [...]
Rename in_dsc_path to dsc_in_same_dir to clarify the use of this variable. [...]
Abstract out the duplicated parts of the debian_fallback class [...] and add descriptions for the file types. [...]
Rename the Openssl command class to OpenSSLPKCS7 to accommodate other command names with this prefix. [...]

Misc:
I also performed a huge overhaul of diffoscope's website:
Lastly, I made a large number of changes to the main Reproducible Builds website and documentation:
Debian LTS

This month I contributed 17¼ hours to Debian Long Term Support (LTS) and 9¼ hours on its sister Extended LTS project.
Investigated and triaged freerdp, keystone, nginx, tcpreplay & thunderbird, as well as tended to the general upkeep of the dla-needed.txt and ela-needed.txt files, adding various notes, references, attributions and citations.

Frontdesk duties including responding to user/developer questions, reviewing others' packages, participating in mailing list discussions as well as attending our second regular IRC contributor meeting.

Issued DLA 2201-1 to prevent a Denial of Service (DoS) vulnerability the ntp network time protocol server/client. ntp allowed an "off-path" attacker to block unauthenticated synchronisation via a server mode packet with a spoofed source IP address because transmissions were rescheduled even if a packet lacked a valid "origin timestamp".

Issued DLA 2203-1 for the SQLite database to prevent a denial of service attack. In the event of a semantic error in an aggregate query, SQLite did not return early from the resetAccumulator() function which would lead to a crash via a segmentation fault.

Issued DLA 2204-1 for the Mailman mailing list manager to prevent an arbitrary content injection attack.

Issued DLA 2211-1 in order to prevent an XML external entity vulnerability in log4net, a logging API for the ECMA Common Language Infrastructure (CLI), sometimes referred to as "Mono". This type of attack occurs when XML input containing a reference to an internet-faced entity is processed by a weakly configured XML parser.

Prepared and issued ELA-229-1 and DLA 2217-1 for the Apache Tomcat Java server to prevent a remote code execution exploit.
You can find out more about the two projects via the following video: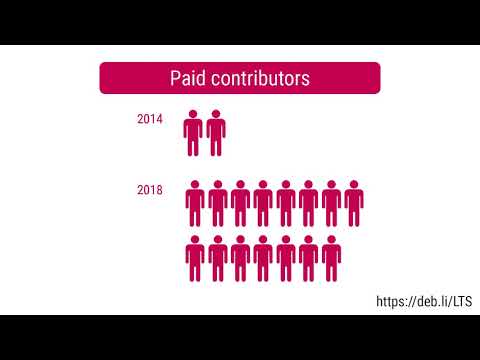 Debian
I filed the following bug reports in Debian this month:
apksigner: Uses en-dashes (U+2013) in manpage over two hyphens. (#960778)

devscripts: dd-list -nou results in "unknown option: […]". (#960891)

node-redis: autopkgtest regressions against Redis 6.x. (#960105)
I also filed a number of bugs against packages that are not compatible with Django 3.x, (organised around a single master bug) including django-taggit, sorl-thumbnail, django-simple-captcha, django-cas-server, django-cors-headers, python-django-csp, django-pipeline, python-django-jsonfield, python-django-contact-form, django-model-utils, django-fsm, django-modeltranslation, django-oauth-toolkit, libthumbor, python-django-extensions, python-django-imagekit, python-django-navtag, python-django-tagging, djangorestframework, django-haystack, django-taggit, django-simple-captcha, python-django-registration, python-django-pyscss, python-django-compressor, python-django-crispy-forms & python-django-mptt,
Lastly, I made the following uploads to Debian:
I also sponsored an upload for adminer (4.7.7-1), also uploading it to buster-backports.